INGEDE Digital Round Table —
Previous Meetings
---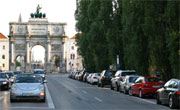 (pictures: www.muenchen.de)
9th meeting on April 29, 2010 in Munich, Germany
following the PTS Deinking Symposium 27–29 April 2010
---


8th meeting on November 20, 2009 in La Hulpe, Belgium
Where are we? What did the Digital Round Table achieve so far? (Axel Fischer)

Update on Digital Production Presses EP and IJ (Detlef Schulze-Hagenest)

VTT in Brief (Terhi Hakala, VTT)

Master's Thesis on Enzymatic Deinking of Inkjet Inks (Katariina Nyman, VTT)

Deinkability of Inkjet Prints on Coated Media (Nico Päuser, Mitsubishi Paper)

Update on DPDA/CTP deinking research (David Hatfield on behalf of DPDA)

Update on HP deinking research (Gregg Lane)

Typical deinking process concepts (Andreas Faul)

Kemira's RCF products and solutions (Tea Hannuksela, Kemira)

Initial Results from Inkjet Deinking Tests (Mike Murcia, Nalco)

Discussion on appropriate lab scale process variations (follow-up of discussion at the last RT)


INGEDE News 12/2009 with a report about the Round Table
---
7th meeting on March 20, 2009 in Gent, Belgium
Agenda:
Where are we? What did the Digital Round Table achieve so far? (Axel Fischer)

Paper surfaces and paper surface chemistry (John Kettle, KCL)

Typical deinkability of different papers printed with different printing processes (Andreas Faul)

Summary of substrate influence on deinkability for different print technologies
(Manfred Münz, Océ/DPDA)

Advances in deinking pigmented inkjet inks
(Gregg Lane, HP, and Elisabeth Hanecker, PTS)

Towards an understanding of ElectroInk 4.0 deinkability
(Benjamin Fabry, CTP, and Jeffrey Belson, HP Indigo)
---
6th meeting on October 24, 2008 in Bordeaux
following the final conference of the EU COST Action E46 Oct 22–23 prepared by CTP
(pdf of the program here).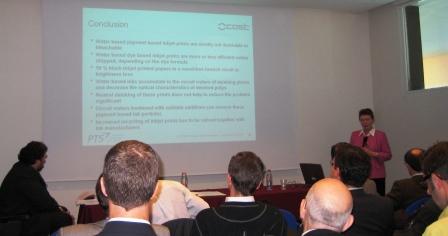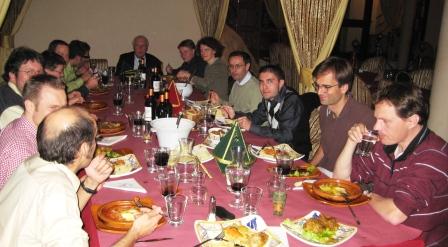 Agenda:
Deinking of inkjet prints: Progress with deinkable inks details and background
(Gregg Lane, Hewlett-Packard)

Digital Print Deinking Alliance (David Hatfield, Kodak)
More Links:

On ERPC's web site you will find the Deinkability Scores.

PrintWeek 16 January 2009: Digital faces clean-up test.

WhatTheyThink 17 January 2009: Kodak's New Inkjet Strategy.

PrintMedia in Dec 2008 about digitally printed news: Newspapers begin to join the dots.

GraphicArts Online in Nov 2008 about Screen, HP: AlphaGraphics to Print Newspapers.
---
5th meeting on April 3rd, 2008 in Offenbach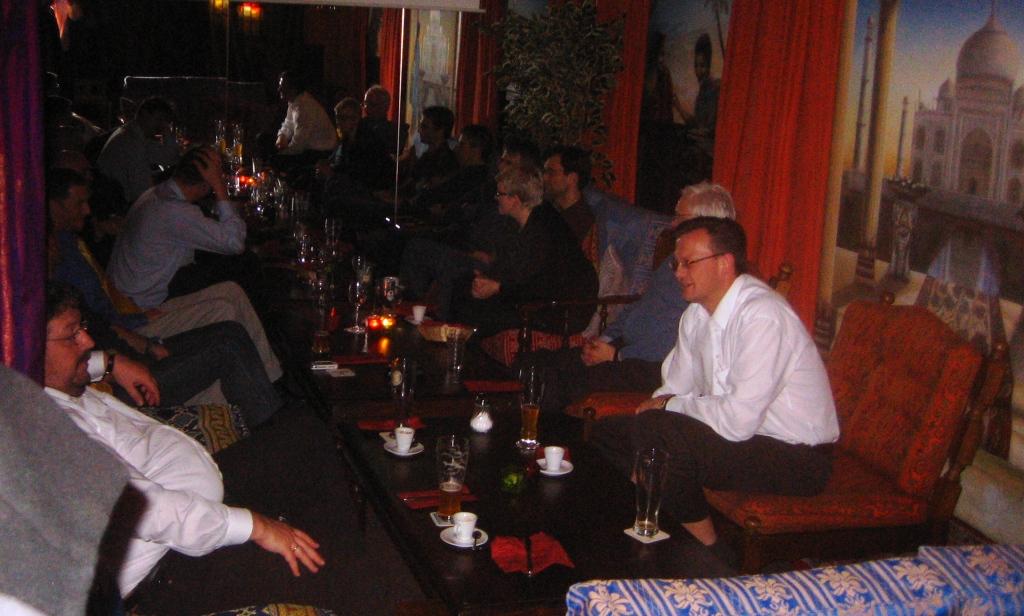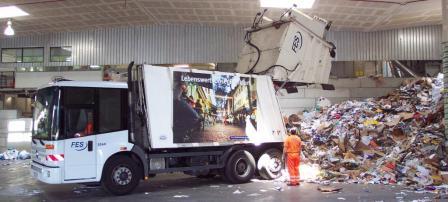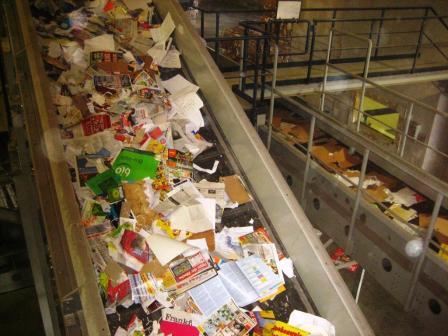 Getting together at the "White Elephant". After the meeting: The FES sorting plant for recovered paper from household collection.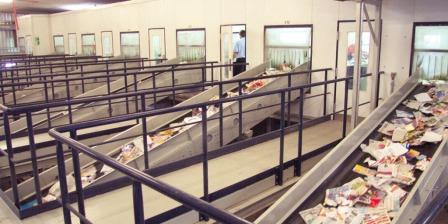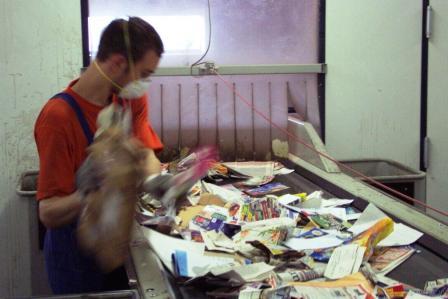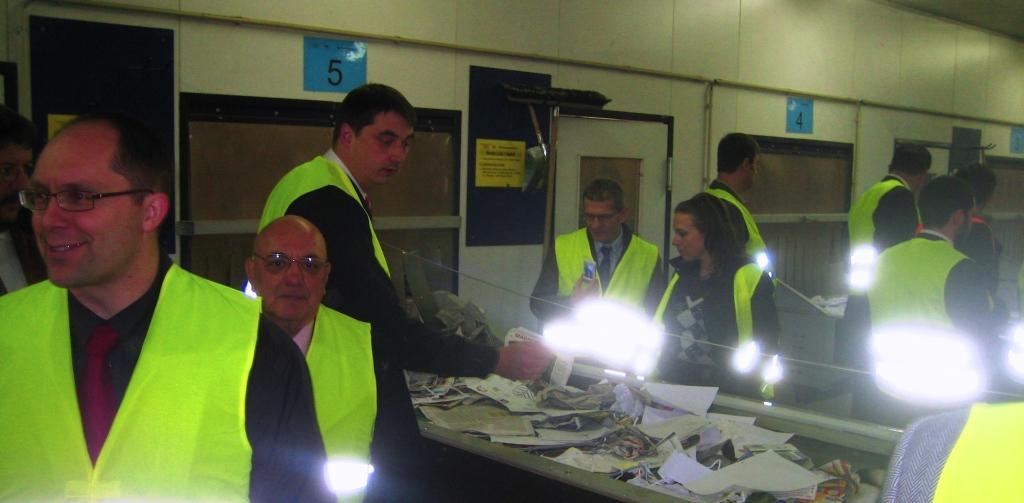 2nd loop deinking process simulation
(Andreas Faul)


Deinkability Scores (Andreas Faul)


Detachment and Removal of Inks (Andreas Steenbock, Steinbeis Temming Paper)


Topography – first experiments (Axel Fischer)
---
4th meeting on November 8, 2007 in Poing
2nd loop deinking process with Indigo prints
(Hans-Joachim Putz)


Deinking Tests with OPS Samples (Manfred Muenz and Astrid Bernsdorf, Océ)


Mechanical and chemical toner. Results of a deinkability comparison
(Carole Ayala, CTP)


Austrian Eco-label for printed paper products (Christian Kornherr for NIP23)


More Links:
MAN Roland, Kodak alliance
Printing technology designed to give newspapers on-press digital inkjet printing at full speed (Nov 2007)

MAN Roland and Kodak Versamark at IFRA 2007
(German article in Deutscher Drucker 25 October 2007)


MAN Roland, Kodak alliance
Article and press release on MAN's website in German and English (Oct 2007)


---
3rd meeting on March 13, 2007 in Uetersen
Deinking results (Andreas Faul)


Deinkability scores (Andreas Faul)


Repeatability studies (Andreas Faul)


Scanner calibration (Hans-Joachim Putz, PMV)


Deinkability of Inkjet News (Hans-Joachim Putz, PMV)


Simulation of a 2nd process loop (Hans-Joachim Putz, PMV)


UV cured toners (Carole Ayala, CTP)


Steinbeis Temming Plant (Andreas Steenbock, STP)
---
2nd meeting on October 18, 2006 in Munich
---
If you have any questions, do not hesitate to contact us!