INGEDE Symposium 2017
---

The INGEDE Symposium 2017 will take place on Wednesday, February 8th, 2017 from 9:30 to 17:15 at "Haus der Bayerischen Wirtschaft" in Munich, room "Europasaal".
The presentations will be given in English and German with simultaneous translation.

Program: Here is the program (pdf for download).
Welcome and Introduction, INGEDE's Activities 2016/2017
(Thomas Krauthauf, Chairman of INGEDE)
Keynote: Roadmap 2050
(Sylvain Lhôte, CEPI)
Sylvain Lhôte is the new Director General of CEPI. He took over from the last Acting Director General Jori Ringman. Before, he was Vice-president Governmental Affairs in Europe for Alcoa, the leading aluminium and light metals engineering group.
Processing High Grade Paper for Recycling
(Anne‐Katrin Klar, SCA Hygiene Products GmbH)
General Developments in Recyclability
(Andreas Faul, INGEDE)
The IMPACTPapeRec Project: European Multi‐Stakeholder Cooperation to Improve Paper Recycling Rates
(Lisa Labriga, Association of Cities and Regions for Recycling and sustainable Resource management ACR+)
The increase in the availability of PfR has not taken place in all EU states, and this is especially true in Central and Eastern European countries. Moreover, the quality of the collected material does not always meet the requirements of paper recycling. The project is funded by the EU Horizon 2020 programme.
Environmental Impact and Sustainable Aspects of Digital Printing at CEWE
(Matthias Hausmann, CEWE)
CEWE, founded in 1961, has 11 production sites in Europe, producing digital prints, fotobooks, personalised gifts, and also online priont jobs with a volume of up to 200,000 copies. It supplies many chains and drug stores with local and mail-order foto jobs.
DIN SPEC 55700: Deinkability Test for Printed Paper Products
(Peter Hengesbach, Stora Enso Research)
An INGEDE working group has developed this new standard for testing deinkability in the lab based on long-term experience with INGEDE Method 11.
Sorting Plant Design (Stora Enso Langerbrugge)
Manuela Suttnig, REDWAVE/BT-Wolfgang Binder GmbH
Options for optimisation and regulation with the example of the Stora Enso Langerbrugge paper mill in Belgium.
INGEDE Projects
(Johann Oberndorfer, UPM Research)
An overview about finished and recently started project work funded by INGEDE and about participations in multi-client projects.
Deinkability Update: Drupa, Digital Prints, UV Cured Prints
(Axel Fischer, INGEDE)
First prints of Landa were presented at drupa, INGEDE has tested the deinkability. Also in the lab: Konica Minolta's KM-1 (uV cured inkjet), LED-UV printing and "conventional" UV cured prints and others.
And more (see preliminary program).
Registration: Free of charge for member companies, representatives of associations and the press, for all others please understand that we charge 200 EUR to cover our expenses. Please contact us for an invitation if you're not on our mailing list yet.
The venue is within walking distance from Munich Central Station. See how to find to the "Haus der Bayerischen Wirtschaft"
Due to heavy traffic and difficult parking it is recommended to use public transport (download this map, print it and take it with you):
The S-Bahn coming from the airport stops close at Karlsplatz (leave the airport with either S1 or S8, both are arriving after about 40 minutes; trains to and form the airport leave about every ten minutes). Exit the S-Bahn station towards Lenbachplatz/Ottostraße, follow Ottostraße until Max-Joseph-Straße (on your left). Walking distance from Karlsplatz is about five minutes.

Coming from Munich Hauptbahnhof leave the building towards Elisenstraße, cross Elisenstraße and follow it to your right towards Karlsplatz, pass Sophienstraße (on your left) and turn left at Ottostraße (Tram tracks), follow Ottostraße until Max-Joseph-Straße (on your left). You can also take the tram 27 towards Petuelring or tram 28 towards Scheidplatz for one stop (Ottostraße).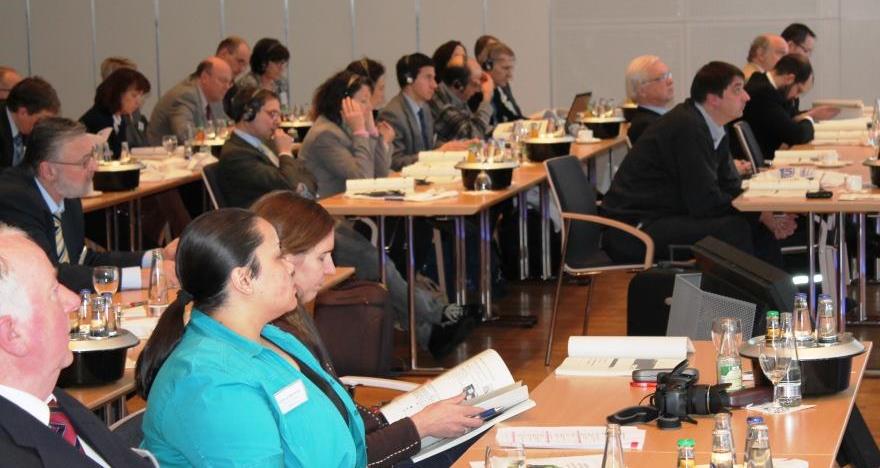 ---
Hotel Information
There are many hotels in the central Munich area. Due to a competing trade fair not as cheap as usual but still reasonable (currently from 99 EUR incl. tax excl. breakfast) and right across the street north of Hauptbahnhof is Hotel Amba*** (www.hotel-amba.de).
Here for the nights around the 2017 symposium we suggest you book yourself via the hotel website; we were not able to negotiate rates that are even better. Prices on the hotel's website are always 10 % below the rates on HRS or other booking sites.
From this hotel you can walk to the venue within less than 15 minutes.
---
If you have any questions, do not hesitate to contact us!