17 Percent Contaminants in Sorted Recovered Paper:
Poor Quality Due to Co-mingled Collection of Recyclables Leads to Shutdown of US Paper Mills
New Edition of INGEDE's Newsletter RECOVER
Wherever paper is being collected together with plastic, cans or glass, the fraction of contaminants increases dramatically – even in the sorted recovered paper. In the US already paper mills had to close, because paper recycling was not economically feasible any more. Now, the paper collected in the Los Angeles Area, goes to China for the production of packaging material.

The new edition of INGEDE's newsletter RECOVER reports about a US paper mill still fighting with up to 17 percent contaminants in the sorted paper coming from MRFs (material recovery facilities). Expensive additional equipment is necessary in the paper mill to cope with fine glass pieces. The abrasive sand continuously destroys pipes and pumps in the mill.
Disposing of bottles, cans or bags is costly: With 500 tons of feedstock per day, up to 80 tons of waste have to be removed from the already expensive raw material – sorted recovered paper.
INGEDE warns against this development also in Europe: Especially in the UK, communities try to save money by collecting as many recyclables together as possible. Already the deteriorating quality of the recovered paper delivered to the mills becomes a problem. Paper manufacturers appeal to communities and authorities to discontinue this unsustainable and ecologically counterproductive approach.
INGEDE is an association of leading European paper manufacturers founded in 1989. INGEDE aims at promoting utilisation of recovered graphic paper (newsprint, magazines and office paper) and improving the conditions for an extended use of recovered paper for the production of graphic and hygiene papers.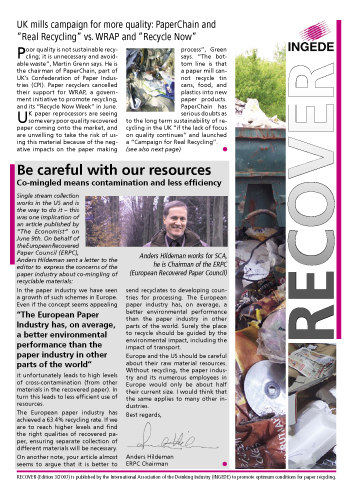 6 July 2007
Links:
The new edition of RECOVER


Download this press release