Workshop "Deinking of Digital Printing Inks"
together with the Centre Technique du Papier

18 October 2001 in Grenoble
Whether it is photocopies, laser prints or inkjet prints - digital printing processes gain importance. But the manufacturers hardly think about the fact, that the print products created by these processes are given to the waste paper collection by the users. Almost each of these products rather harms the paper recycling process than contributing to the recovery of valuable resources - they ought not to get into recovered grafic paper, because the ink systems that are being used can be removed either poorly or not at all.
INGEDE and CTP invited the manufacturers of important digital printing systems for a joint workhop to Grenoble. But most companies did not realize the importance of this kind of discussion.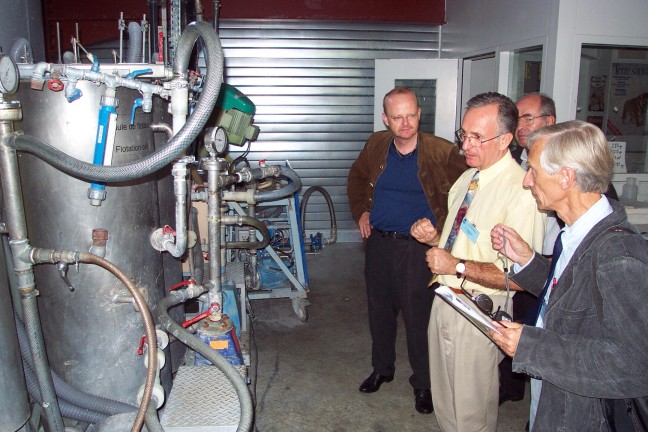 Picture: Yves Vernac (above, middle) explains the facilities of CTP to the visitors. Among these facilities is a new laboratory flotation cell (below).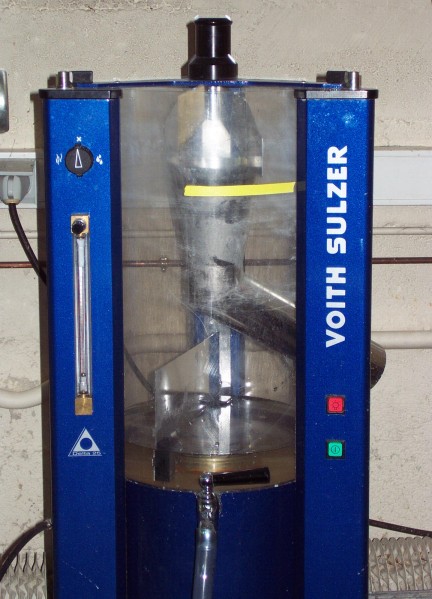 Picture: The coffee breaks gives the opportunity for more discussions about the presentations (below).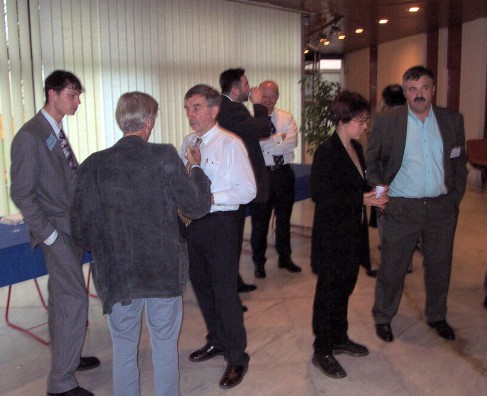 What are digital prints?
Even with conventional print processes, today a large amount of data is prepared and stored electronically and digitally. But usually the last step involves a change between systems: A master is exposed to a film which becomes the base for the printing plate, or the exposure takes place directly onto the printing plate or the print cylinder. Either way the product is the same for the complete edition or at least part of it. Changes or updates like that of a newspaper require a change of the plate.
At digital processes like they are used since about 1993, digital data get directly into the output device. No preparation of a form is necessary. With every single print, with every new sheet of paper the printed data can change (online update possible).
Digital print processes are applied by print shops and by consumers:
Large format prints with high quality, slow (ink jet, magnetography, low paper volume)
bulk print with medium quality, very fast (laser, ink jet, magnetography, high paper volume)
offset quality at high speed (laser, waterless prints, ..., low paper volume)
office prints by end users with medium or high quality, slow (ink jet, laser, high paper volume)
ticket printing with low quality, slow (ink jet, laser, thermo printing, medium paper volume).
Different companies and institutions estimate different figures for future paper consumption by digital print processes. Paul Piette and Véronique Morin (CTP) conclude different studies to a sum of 8 million tons worldwide for 2000.
Toner for Photocopiers and Laser Printers
(Gerd Goldmann, Océ Printing Systems, Poing, Germany)
At electrophotography, an electronic picture is transferred as different charges onto a rotating drum that carries a photo resistant layer.
What is toner? A finely dispersed pigment powder, that makes the latent electrostratic picture visible on a photoactive material . Toner consists of a base resin and a colorant. They are modified with additives that work as process aids and optimize quality, costs and functional properties. An important production step is to remove all particles below 5 µm (small enough to enter the lung). At electrophotography, an electronic picture is transferred via differently charged areas to a rotating drum that carries a photoconductive layer.
The crucial step at a toner printing process is fusing. Heat is applied and the toner attaches to the paper or other substrates. The result depends on the exactness of the temperature - at about 120 °C the particles become soft and sticky, at about 135 °C they start to become glossy but still do not melt together. At about 150 °C the particles melt together on the surface, above 160 °C the toner enters the paper (wetting; undesireable).
In order to guarantee a sufficient fusion, the toner has to be heated withing a very short period of time. Especially at high speed printers it is one of the main problems of the manufacturers to equip the toner with a correspondingly good adhesion. But the lower the adhesion is, the easier the toner can be removed during paper recycling. "In the past", Goldmann admits, "we never thought about deinking". This has already changed. Since this first meeting in Grenoble Goldmann an his colleagues from Océ have contributed their expertise in toner and machine development to the newly founded task force "Deinking Digital Prints".
Scitex Technology
(Laurent Mathieu, Scitex Digital Printing, Paris, France)
About 44 percent of all direct mail goes unopened to the waste paper basket - one and a half trees per person and year are used only for direct mail.
The power of colour: Colour increases attention by 50-70 pdercent, increases recognition and improves motivation by up to 80 percent. Mistakes can be reduced to less than half, sales can almost be doubled.
Personalisation increases the number of responses to direct mail from two to almost 40 percent. Scitex develops high speed printing systems for colour printing and addresses mainly the market for direct mail, bank statements and billing. The ink jet printers work with nozzles of about 1/3 of a human hair's width. With two 9" printing heads side by side endless paper can be used. The print quality does not match that of other digital technologies, but the costs are much lower. The quality is sufficient for standard applications like technical references, advertisement pages or promotional coupons, the overall costs per page are comparably low.
Digital Printing of Newspapers
(Éric Languillat, IFRA, Darmstadt, Germany)
Microsoft's prophecy: In the year 2018 the big news corporations will publish their last paper editions and will switch completely to electronic distribution.
Since 2001 in London works the first digital printing machine for newspapers that also look like a newspaper (same format, almost same paper). Here among others Neue Zürcher Zeitung is printed - this way it can be offered to London readers in the morning already (conventional delivery would not be able to achieve that). The necessary data are tranferred digitally via satellite and can be realised almost the same moment as where the original paper is published.
Digital printing of newspapers allows a couple of future visions: The home newspaper on time even if you're far away - travelling on business or going on holiday: From a menue on specialised terminals, operated at airports or hotels by printing machine manufacturers, it might one day be possible to choose a familiar newspaper from a central network. The paper will be printed, paid for by credit card. Subscribers could identify with a chip card and enjoy special prices. An actual model is the "Xerox Newspaper Network". The advantage for the newspaper: Investment costs are close to zero, the disadvantage: a relatively high price per copy.
How the recycling of this kind of products will work is unclear. Yet neither the printing processes that might be utilised nor collection systems can be estimated.
Paper Recycling: Data and Collection Systems
(Dr. Erwin Krauthauf, Haindl Papier, Schongau, Germany; Chairman of INGEDE)
More and more paper is being recovered and recycled. In the year 2000 in Europe 10.6 million tons of newsprint have been produced, using 7 million tons of recovered paper. This corresponds to an average utilisation of recovered paper of 66 per cent (in Germany: 117 per cent - for one ton of new paper due to the losses during sorting and cleaning more than one ton of recovered paper is necessary).
With other graphic papers (magazines, avertisement supplements), the figures look worse: The production was a total of 35 million tons, using only 2.7 million tons of recovered paper. This means only 7.6 per cent in Europe. This is where the potential for a further increase of the utilisation of recovered paper is in the future.
Deinkability of Digital Prints: Toner Printed Papers (Indigo, Xeikon, Océ), Inkjet Prints, Elcography Prints etc.
(Bruno Carré, CTP, Grenoble, France)
For the first time it has been put together systematically, how different digital print processes effect the deinking process.
The differences between several processes that are currently on the market turned out to be surprisingly high. Particularly poor results were observed with liquid toner processes as the one used by Indigo: These printers use a fast drying so-called Electro-Ink (particular ink by Indigo). The toner is transferred from a drum to the electrostatically charged paper, where it is fused to form a polymer film. When the printed paper is dissolved in the beginning of the recycling process, these films result in large but very soft particles, found CTP scientist Bruno Carré. These particles can neither be removed by the usual screens nor through flotation, which is the common process to separate standard inks from the paper fibres. The result is a high amount of clearly visible dirt specks in the recycled paper. "This is really a threat to the deinking industry", Carré stated. Even the third generation of these inks was not acceptable in terms of deinkability.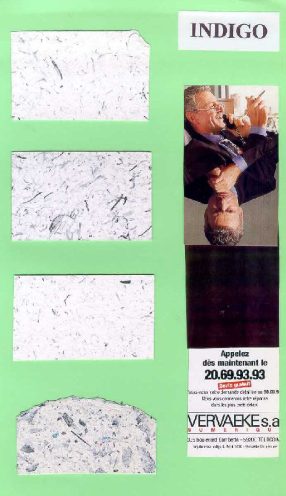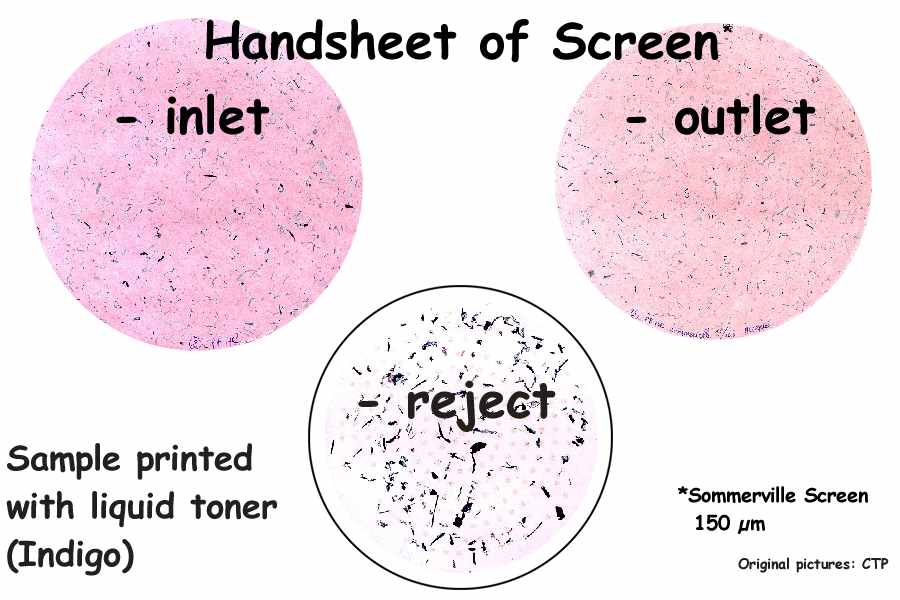 Figures: Even after screening clearly visible residues of liquid toner remain in the pulp.
Dry toners as they are applied for digital four colour printing processes by Xeikon and Xerox create less problems. The resulting brightness and residual ink are sufficient to lead to a good deinkability. But the number of dirt specks is still too high – it is lower compared to other types of digital prints but still 10 to 100 times higher compared to the contamination found when testing conventional office waste on an industrial deinking line. Too high", Carré judged, an additional dispersion step would be necessary to achieve acceptable results. Differences in the rating of particular processes were mainly caused by different fusion temperature or printing speed.
Positive results, according to Carré, delivered the tests with digitally printed newspapers by the Océ technology that electro photographically uses dry toner. Preliminary results show that the brightness after the recovered paper treatment is even better than with conventional offset printed newspapers. Here also, the chosen fusion temperature together with the printing speed could be the reason for the good results. The composition of the toner could also matter, but yet no investigation about different toners exists.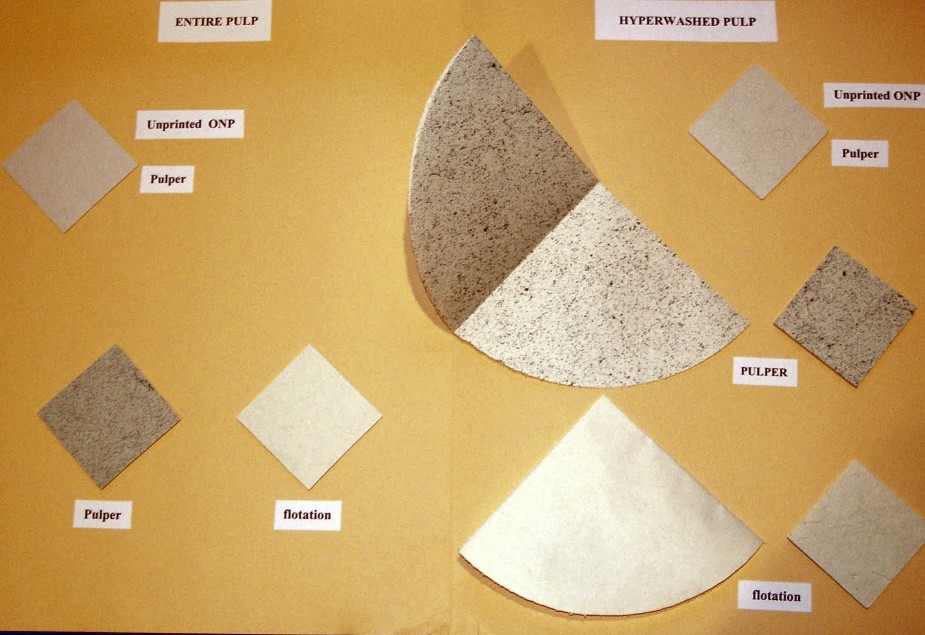 Figure: Investigations of samples of newsprint from the Océ process. "Pulper" shows the intense colour before deinking, "Flotation" after removal of the printing ink that is sufficient in this case..
Inkjet prints can hardly be discoloured
The deinkability of inkjet prints lead to different results. Black inks contain more and more finely distributed pigments that can neither be deinked nor discoloured. Even ten per cent of print products with these inks among other recovered paper to recycle spoil the deinkability of the whole mixture. Among the dye based black inks only a few can be discoloured efficiently. Yellow and blue inks cannot be bleached at all – they leave an even shade in the deinked pulp.